Bean counters fraught with fear

Colm Carey was at an industry breakfast where he learned that Feargal Quinn dreads accountants
Addressing a Marketing Institute (MII) breakfast talk in the Mansion House, former grocery supremo Senator Feargal Quinn revealed that he dislikes accountants. Quinn advised an enthusiastic audience of marketers to be nervous when they hear that the new CEO of a company formerly held the position of financial controller.
That old batten-down-the-hatches mentality beloved of the bean counters is at odds with the service ethos required of a successful business. Paraphrasing the ancient Greek philosopher Heraclitus, Senator Quinn reminded delegates that you never deal with the same customer twice.
Each time you come into contact with a customer, something has changed meaning you can never take anything for granted. The only constant is change and successfully managing it is the key to long term success.
Consumer lifestyle trends were under the microscope at the AAI seminar held in the Avoca Café in Suffolk Street. Una Fitzgibbon of Bord Bia and Sarah Love of Goosebump gave a run down of the key trends that will occupy our minds during 2010.
The theme running through the trends is that we are looking for substance and integrity in the products we consume and the services we use. We want control. We want to be healthy in body and harmonious in mind. We want to eat foods that we believe have been ethically produced by happy people and well nurtured beasts. We want stability and transparency. We are focusing on being resourceful to make ends meet in tough times. We like living in real time using digital communications that leave traditional media looking shallow and cumbersome. Above all, we want to be happy and secure.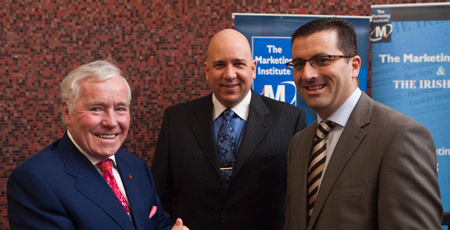 SENATOR'S ADDRESS
Senator Feargal Quinn, Tom Trainor, Marketing Institute and Paul Farrell, The Irish Times at the MII breakfast talk in the Mansion House.
LOYALTY PENALTY
Every seminar, journal and marketing website is singing the same tune at the moment. We have to win back the trust of consumers by showing a softer side and rebuilding deep and meaningful relationships with them. How does this tally with our conversations with consumers, who say that some of the things driving them mad at the moment involve companies that give goodies to newbies while treating loyal customers with disdain? It is called the loyalty penalty. The more loyal you are, the less goodies you get. In the past few weeks Research File has heard of mobile phone networks giving free stuff to new customers while telling long standing customers to go hop. Or how about the cable company that cut its price in half but only when a customer threatened to switch to a satellite dish? Some of the most maddening messages are coming from our old friends in financial services. Halifax UK is running a self-satisfied ad that boasts about giving customers a fiver. The bankers seem to have forgotten that the fivers they are handing out belong to the public in the first place. We have yet to see a bank ad that even nods in the direction of the new world order. They keep trotting out interest rates and grateful customers whose main joy in life is the lofty approval of the bank.
The world has changed folks, get with it.
NEEDS HIERARCHY
In Esomar's Research World magazine, Jeff Hunter, director of consumer insights at General Mills makes the point that companies and brands that satisfy lower order needs have probably fared better in the recession than those that rely on satisfying higher order needs.
So if you are in the warmth, security and nurturing business things are probably pretty good right now. If you operate in satisfying higher order needs such as status, the pickings are still lean.
Companies should be looking at what they do and communicating in terms of lower order needs' satisfaction. Get back to comfort and security and leave issues like convenience until things get busy again.
Research World also tells us that TNS Worldpanel UK grocery market shares for the 12 weeks ending November 2009 showed signs indicating an end to recessionary buying behaviour.
Premium ranges such as Tesco Finest grew while discounters Aldi and Lidl were stagnant with no year-on-year growth. This compares to 2008 when discount shopping was the big thing and Aldi recorded 25 per cent growth.
OUT OF VIEW
Dublin's first purpose-built viewing facility has closed its doors. Terenure based Quota View saw a lot of activity in the years of service it provided to clients but bookings declined in recent times to the point where the project was no longer sustainable.
This is the third viewing facility to close in Dublin in the past year. Owner Noeline Murray continues to run her long-established firm Quota Search providing interviewing for quantitative projects and focus group recruitment.
STEAMING ALONG
The letters page of UK-based Research Magazine has been alive with comments from researchers about the impact of new methods in market research. One Simon Chadwick believes the challenge will be to insure new methods deliver the required accuracy and reliability. Otherwise, Chadwick notes "we might be like the steam car coming after the horse and buggy - a great leap forward of no consequence".