RADIO ADVERTISING...

ARE THINGS REALLY AS BAD AS THEY LOOK?
This month, Stay Thoughts steps warily into the 'garbage radio ads' controversy sparked by comments made by Alan Cox of Publicis Groupe Media, at the Independent Broadcasters of Ireland seminar held recently.
The column begins badly. In suggesting I might add my tuppence worth on the issue, the editor suggested I might nominate ads that give radio a good name. He suggested Costcutters with Deirdre O'Kane which is okay in itself, but you'd hardly include it in your list of things to save if the house caught fire. My problem is that, apart from the usual suspects, most radio ads not only do themselves a disservice, they do their fellow ads and the radio medium a disservice also. A bad radio ad assaults in a full-on way - you can sift out rubbish in other media and ignore it, but rubbish radio really annoys - so you reach for the mute button and ditch the entire break.
But read on, ST isn't just another groan fest; positivity in the face of adversity is our May motto. Our primary observation is that there's wrong on both sides of the fence. Correction, make that wrong on three sides of the proverbial fence. You have advertisers, agencies and the medium itself.
What's striking is that this debate was initiated by a senior media executive, an indicator of how the pendulum of power in the adland has swung in favour of the guys with bags of money and away from the guys with bags of brains in the ad business.
Not long ago, media schedule makers were honoured to book creative work into print and onto the airwaves - now they have taken on to themselves the right to criticise. It's a changed world out there, maybe all the better for it.
So a round of applause for Alan Cox who put his finger in the dyke of radio ad leaking junk words and assaulting the gentle ears of an audience listening to the Socratic debating points of Joe Duffy's Liveline on RTE Radio 1.
The root cause of bad radio ads lies not as Cox diplomatically suggests in poor production or lousy acting, although both have their part to play. The irredeemable problem lies in two areas. The most culpable from the industry viewpoint is the shocking standard of the initial radio scripts.
The suggestion that radio writing gets left to juniors is not where the core of the problem lies; it's the fact that radio writing regularly gets left until last. Here's the TV ad, here's the outdoor, here's the national press campaign - now would you ever lash out a 30-second audio treatment pronto.
One that uses a theme unsuited to the medium and furthermore includes prices, terms and conditions, shapes and sizes and all the other gunk we managed to avoid clogging into the elegant treatments in the other media.
Oh, and by the way, we've no money left, and it's on air Tuesday. And today is Friday at 5pm in case you've forgotten. In simple terms, radio is far too often the junk bin of the brief and everyone knows it, does it and is to blame.
The second problem is that all this hastily conceived work gets spliced together into three minutes of consecutive aural hell, pitched out at an audience without apology and often unrelated to the core content of the surrounding programmes. So is there a remedy?
Cox suggests a competition. Let the radio groups sponsor a well-endowed competition that encourages creatives to show off their radio skills, much in the same way as the NNI Awards promotes good press work.
STYLE AFICIONADO

British actress Joanna Lumley, whose dulcet tones promote the G Hotel in Galway in radio ads devised by The Hive, ads considered by some people to be a prime example of using the medium in a creative fashion.
Another awards scheme is probably two too many, but ST will buy into anything that elevates the medium into reaching its potential. The question to ask however is whether such a scheme would, like the press awards, unearth some great ads about the medium, while the next day at the office the same old bad work practices would re-establish themselves for brand ads.
Right at the very root of the problem is the media itself. ST suggests that Cox and his media cohorts on the buying and selling sides of radio can probably do more to raise the creative standards than any gaggle of gong-grasping writers. Here's how. It will cost, it is elitist, but it will work.
ST suggests the inauguration of station-promoted 'Elite Ad Breaks' where only a limited number of commercials that achieve certain standards will be allowed run and where the audience could have the right to vote off any ad considered unworthy of the honour of inclusion.
Only commercials of at least 40 seconds duration would be eligible. Each break would favour 50 and 60 second slots. The longer lengths mean less competing voices in the break and allow for a greater degree of characterisation in the actors' voices and dramatisation of selling messages. Campaign ads and serial ads with an ongoing storyline would be given preference over one-offs. There would be an 'audio interlude', a silent gap, between each commercial, much in the way that music separates the stories on Sunday Miscellany. The ads get a chance to breath and the audience gets an opportunity to listen rather than be shouted at. Advertisers would no longer be allowed gabble their way through terms and conditions at a pace that makes a mockery of what's been said. Elite Ad Breaks would appear once every hour in primetime programming; a typical RTE schedule would allow for one Elite Break in Tubridy, two in Kenny, and so on through the day. My guess is the slots would be booked solid at premium rates in jig time.
And when it comes to award season, the stations taking part in the Elite Breaks Series would stump up for a worthwhile award for the creators, clients, producers, studios and actors who put their talents on show.
This proposal for Elite Ad Breaks should be welcomed by writers, producers and actors. It should also be welcomed by the media professionals as it allows them to negotiate for what would become the equivalent of 'best position' in press or 'first-in-break' in TV schedules.
It should also be welcomed by the media owners as ultimately their interests cannot be best served by the present position of providing audiences with the least-loved medium instead of what should be one of the most admired.
It's not gongs that's wanted, it's guts to recognise a problem and to tackle it in a provocative way. If anyone wishes to expand, expound or explode with enthusiasm or even anger at this suggestion, the editor of Marketing will make the magazine available as a forum. Or if you own a radio station and want to do something real about it, just call me and let's do it. ST reckons our industry owes a big thank you to Alan Cox.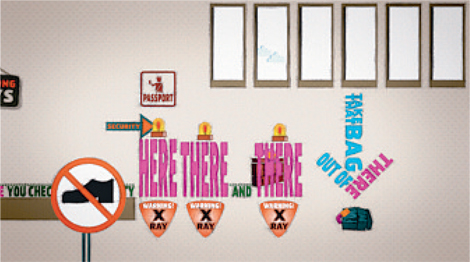 STAYING HOME TO HOLIDAY
The animation ad for Failte Ireland created by DDFH&B-JWT has proved an annoyance to the Dublin Airport Authority (DAA) as the urge to discover Ireland plays up the disadvantages for Irish holidaymakers travelling abroad.
HISTORY REPEATED
Years ago, your ST columnist wrote an award-winning poster for what was then Dublin Duty Free. 'The price of drink would make you want to leave the country', the poster proclaimed, encouraging natives to up sticks and depart their green and overpriced land and pick up a booze bargain on their way.
Bord Failte (as it then was) got highly miffed about another semi-state elbowing in on their territory and trying to undo their good work in keeping us all at home in our place. Now Failte Ireland has taken an interesting competitive approach to promoting its Discover Ireland home holidays and gone in the opposite direction. This time it's the Dublin Airports Authority (DAA)) that's getting its knickers in a twist.
Instead of singing the praises of our many native attractions, Failte Ireland has gone for the jugular by attacking the pitfalls of overseas air travel, painting a graphically disturbing portrait of a day in the life of the holidaymaker trapped in the airport, a cross between the Ryanair desk in Dublin and Heathrow Terminal 5 (where former Aer Lingus boss Willie Walsh is suffering a bit of personal brand damage).
This approach mirrors the current strategy adopted by Irish Ferries, which uses a similar line of attack to promote sea versus air journeys, showing people lining up for a body search, stripped to their undies.
Failte Ireland is already plugging the more conventional happy-go-lucky activity holiday platform and perhaps it is a case of two branches of the same tourist body with two budgets trying to find a point of differentiation between them. Together, the two approaches make for strange strategic bedfellows.
The Failte Ireland animation ad is visually striking and right on message. But the ultimate conceit behind this new strategy of easy-going travelling in Ireland begs the reality-check question.
Has the client or agency been caught in a ten mile tailback at any Irish holiday blackspot on a Friday evening, a regular occurrence that can make an airport seem like an oasis of peace, calm and efficient organisation as we'd like it? It's a good ad, but one that takes a somewhat questionable direction. ST suspects the client won't be going back to the same place next year
Happy holidays, at home, abroad or at your hot desk.
breandanobroin@companyofwords.com